Esperanza Hills was most recently proposed as a green housing community. We planned passive solar homes in community clusters. The housing crisis in 2008 led to the end (or at least a long delay) in the plan. Perhaps the idea can be revived by a new developer.
These were the top priorities in planning the Esperanza Hills project:
Southern orientation, passive solar design, and earth or shade cooling to minimize utility costs
Alternative designs and building materials to create well-insulated, efficient homes
Clusters of homes to promote community
Small homes sized appropriate to family size
Open space around clusters to create a beautiful natural atmosphere
Water harvesting and other permaculture techniques to make the development a green oasis
Mixed use and cottage industry to enable some residents to work on the site
As an example, here's one of our planning documents:
We started planning the project in 2005 and after years of struggle, put it on hold in in 2013. Silver City didn't have much demand for housing for many years, but we have seen some growth recently. I am happy to share what I learned from this project with potential buyers.
Starting in 1979 (long before we acquired the property) the area was called Rio Vicente and planned as a manufactured home subdivision. It was split into 297 lots. During the 80s and 90s about a tenth of the lots were developed in the northeast corner of the property on Agave, Sotol, and Reynolds streets. The developer went broke in the 90s and the undeveloped portion was vacant for many years until I purchased it from the bank in 2005.
Here is a picture of the original plan: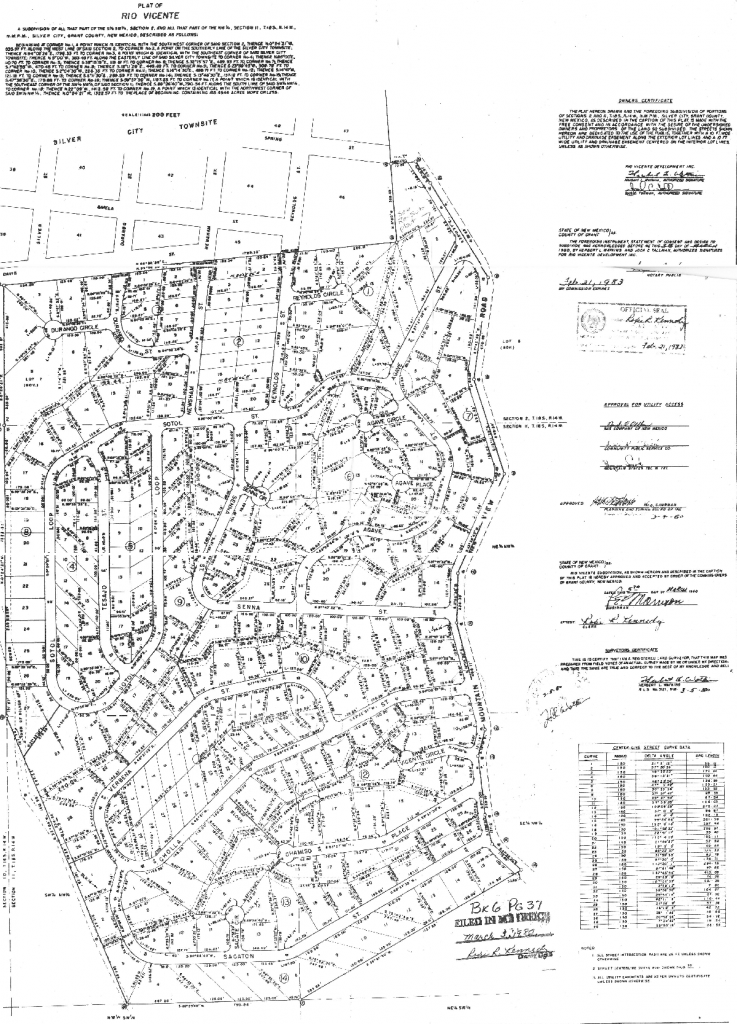 This plan was based on the idea that any land, no matter how steep, can be a lot if you have a bulldozer, and that there's no reason not to build in arroyos. In contrast, I think any development project will go better if you try to work with the land rather than trying to conquer it. Esperanza means hope in Spanish, and I still hope that these beautiful rolling hills above a creek and a trail have a bright future.
Bruce McKinney, Owner
575-534-7607